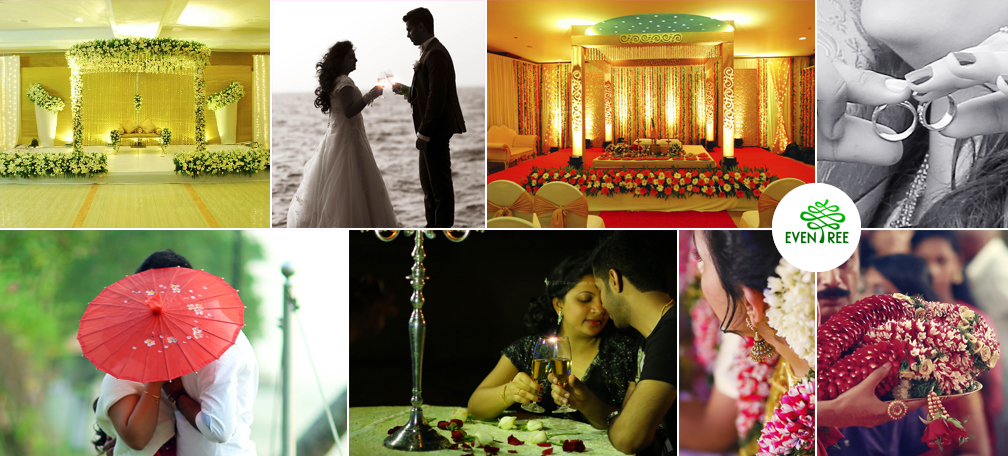 Kerala also called God's own country has several beautiful spots for wedding planning and it is one of the best places for premium luxury weddings. Wedding planning in Kerala offers many dimensions including honeymoon destinations, a wide range of wedding venues and well-qualified resources linked to Kerala tourism and wedding photography.
Kerala is becoming one of the best places for destination weddings in India and Eventree weddings will turn your wedding into an unforgettable experience.
Eventree wedding planning service is tailored for quality service in every step; starting form identifying and booking the right venue, designing of the wedding invitation, selecting the proper wedding ornaments and bridal bouquets to wedding photography stage décor and hospitality, plus wedding transportation and booking of honeymoon in Kerala and across the world. Eventree weddings is your best companion in wedding planning service in Kerala. We are the wedding planners in Kerala and we will organise your events professionally and plan every detail taking your personal wishes at every step.
Kerala is an ultimate destination for all event planners. Having numerous convention centers and halls which are suitable for conducting events and conferences, it also provides a direct link with nature. Eventree event planners is your idea event planner in Kerala with the right expertise, meticulous attention to detail, creative ideas and a professional, stress free team for support. Eventree event planning service ensures that you are free of stress so that you can enjoy the magical journey to your event and more. With every service engineered to perfection, our team with a combined experience of more than a decade can give you the event planning service of a lifetime!
For wedding, photography is a trend-setting factor, both for photo books and wedding videography. Candid wedding photography and wedding video highlights are mandatory in all types of weddings. Eventree wedding photography has the best wedding photographers who are not afraid to push the limits of professional wedding photography. We love to surprise you with extraordinary photos and cool videos of your wedding day. Eventree weddings has the ability to provide customers with a collection of amazing memories as a gift, and we take great care to collate and hand over a complete collection of memories that captures a truly amazing time in your life.
World class service at affordable prices. The quality of our work is very important to us and we make sure that your event is uniquely tailored to meet your needs..
We provide time-bound services. Promptness of our services delivered is one of our unique features and we take it very seriously.
We are professional yet personal in our approach. Be it corporate or personal events, we believe in utmost professionalism while maintaining a personal touch to whatever we do..
People first enjoy your service and the post a review here… I just read others review, saw some good work of yours and a 5*

A touch of professionalism , a smiling face to quell to our anxiousness and above all someone who feel like is a part of the family, a few honest words to rightly fill the lines of EvenTree rhymes yet light on penny for the complete coverage of those memorable days. thank you for making me the princess of that day with your decor and pictures.

I have attended Neha Gopinath's wedding related events on 15 th & 16th May 2016 at Gitanjali Wedding House,Guruvayoor. I appreciate your teams efforts in managing the event even at unexpected heavy rain condition during the Sangeeth program on 15th night.I am happy that the program went on very well with alternate arrangement decided on the spot. Wishing you and your team all the best and many more programs in future..

Thank you eventree for presenting me with great pictures for my big day.
I had the privilege to work with one of the kindest team ever. They were so cooperative flexible throughout the whole process, right from booking, event execution and product delivery . And the pictures really lived upto the vibrant wedding we had. I've had a great experience working with them and I trust all your clients would say the same!
Wishing you the very best in events to come!
A big thank you from me and my family !

EvenTree did an excellent job for my wedding. Good crew who were early and friendly. Provided many suggestions for poses and were patient. You can hire them with confidence. 5 stars to Vipin and his Team.