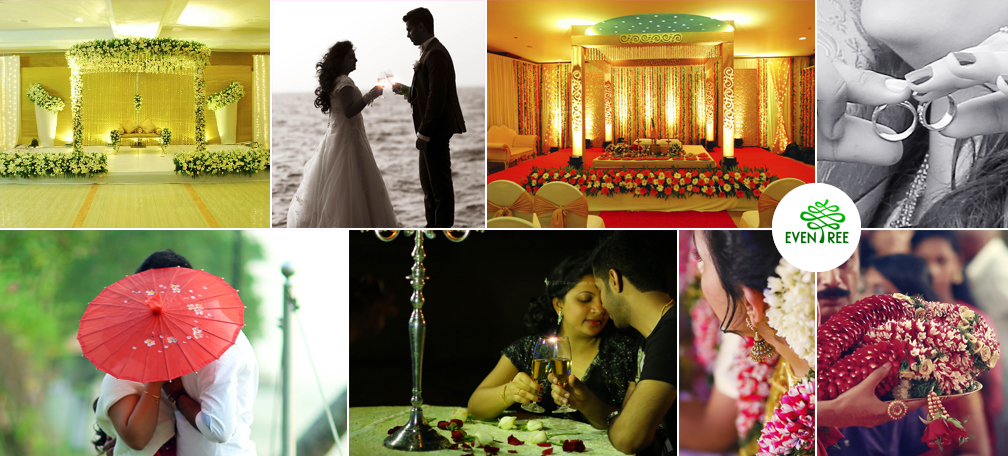 Kerala also called God's own country has several beautiful spots for wedding planning and it is one of the best places for premium luxury weddings. Wedding planning in Kerala offers many dimensions including honeymoon destinations, a wide range of wedding venues and well-qualified resources linked to Kerala tourism and wedding photography.
Kerala is becoming one of the best places for destination weddings in India and Eventree weddings will turn your wedding into an unforgettable experience.
Eventree wedding planning service is tailored for quality service in every step; starting form identifying and booking the right venue, designing of the wedding invitation, selecting the proper wedding ornaments and bridal bouquets to wedding photography stage décor and hospitality, plus wedding transportation and booking of honeymoon in Kerala and across the world. Eventree weddings is your best companion in wedding planning service in Kerala. We are the wedding planners in Kerala and we will organise your events professionally and plan every detail taking your personal wishes at every step.
Kerala is an ultimate destination for all event planners. Having numerous convention centers and halls which are suitable for conducting events and conferences, it also provides a direct link with nature. Eventree event planners is your idea event planner in Kerala with the right expertise, meticulous attention to detail, creative ideas and a professional, stress free team for support. Eventree event planning service ensures that you are free of stress so that you can enjoy the magical journey to your event and more. With every service engineered to perfection, our team with a combined experience of more than a decade can give you the event planning service of a lifetime!
For wedding, photography is a trend-setting factor, both for photo books and wedding videography. Candid wedding photography and wedding video highlights are mandatory in all types of weddings. Eventree wedding photography has the best wedding photographers who are not afraid to push the limits of professional wedding photography. We love to surprise you with extraordinary photos and cool videos of your wedding day. Eventree weddings has the ability to provide customers with a collection of amazing memories as a gift, and we take great care to collate and hand over a complete collection of memories that captures a truly amazing time in your life.
World class service at affordable prices. The quality of our work is very important to us and we make sure that your event is uniquely tailored to meet your needs..
We provide time-bound services. Promptness of our services delivered is one of our unique features and we take it very seriously.
We are professional yet personal in our approach. Be it corporate or personal events, we believe in utmost professionalism while maintaining a personal touch to whatever we do..
When my family and I started planning my brother's wedding reception and cocktail party, I was particular about finding a company that would reach our expectations in three main things:
– Punctuality and apt time management
– Dedication and passion
– Creativity
I could see all of this within a week of communicating with Vipin, who was a pleasure to work with and extremely communicative, straightforward and clearly passionate. Furthermore, I was provided with a feeling that I could truly trust this team when it came to the events mentioned, given that the whole team is reassuring in their efforts and work. Everything has been completed absolutely beautifully – the guests' comments are really endless! – and Eventree has truly reached and exceeded our three expectations.
For the cocktail party the creativity in what I'd asked for was spectacular, with the candid centerpieces and designs on the logos and photo backdrops. And as for the main reception stage and hall decor? Although I'd seen the designs beforehand, to see that particular photo come to life was magical, with the flower stuffing, and the intricate details in their lighting and stage setup.
Additional to this, we decided to have Eventree cover the wedding, cocktail party, and reception events in the photography and videography. Not only did we obtain some beautiful shots – the candid shots in particular – but the video coverage and the highlight video that was sent to us was just stunning!
There's no doubt that you can't go wrong when you choose to work with them! Eventree is not a company, they are a team, and this team is gold. 🙂

I am elated to describe the professionalism and unending dedication of team Eventree as we hurdled through the months leading up to the wedding of my daughter Ankita with Manikandan. I could not have everpossibly pulled everything together without Eventree and their team. They did our engagement and wedding photos and we could not be happier with the outcome! They were very professional, made sure we more than we wanted. All the photos and videos came out beautiful and they really went above and beyond to give us an amazing experience. Not only are the pictures absolutely stunning – the entire process has been seamless. So grateful we found them! Awesome young professionals to work with, will make your day memorable, easy going, will follow your instructions, will arrive early at your event. Highest recommendation, love them!

Eventree was one of the most professional wedding planner we dealt with in Kerala. Very resourceful, very quick and has the ability to amplify ideas. They helped with things that were not even their responsibility! I had some pretty random requests and trust me, this guys works like magic. They can seriously get anything done! Oh, and a major plus point is that their team doesn't overcharge or try to upsell anything. It was a wonderful experience 🙂 Wishing you guys all the luck in the world 🙂

Eventree and Team, Thank you guys!!! Every moment was beautifully captured in the frame. It was amazing what you all did for my engagement and Wedding. You guys are a team of some amazingly talented folks. So many beautiful candid pictures, had a tough time selecting the best out of them. Thanks a ton 🙂

Rytis and I live in the US and came to India only a week before the wedding. Needless to say we were anxious, worried and stressed out because we had been far away from all the wedding planning. A couple of days before the wedding we went to look at our wedding location-Ramada Cochin. We met with Team Eventree and they seemed cool as a cucumber, had important and relevant questions for both of us and he brought ideas with him which was the most helpful since we had no clue what we wanted. We must have met for less than 30 minutes and then we met on our wedding day. We were in awe of what EvenTree did with the location. They created a mandap in the center of the garden and with the flowers and minimal decorations, brought the venue to life. They also topped it off by having a candid photographer take awesome pictures which are posted on the page. We highly highly recommend EvenTree. They are the most fuss free, professional event planners we ve ever met. Thank you EvenTree!!