As Wedding Planners, there are some stories that truly stick when we plan these special occasions. In our country that is so filled with societal pressure and dis approvals on inter-religious, inter-national or inter-state marriages, its challenging for the youth generation to follow their heart and fall in love. Although social media, and the youth generation at work, colleges and schools have enabled us to speak of this 'disapproval' and 'taboo', the reality when such an occasion crops up still raises eyebrows–to put it mildly – amongst our community. Thus amongst this, we found a heartfelt welcome change when we heard of this story – When East meets South. To put it simply, all the notions of the society and religion were thrown apart, when 'Joseph', a Christian boy from Kerala, came across a girl 'Swati'; a Hindu Brahmin from Jharkhand.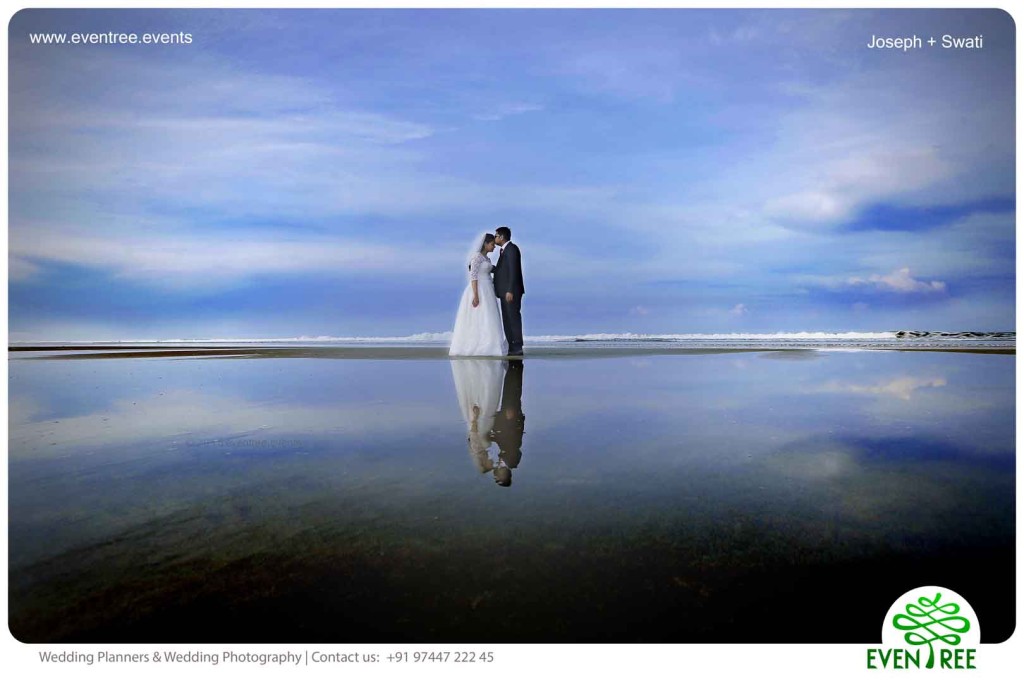 We at Eventree Wedding Planners were overwhelmed by the story of two hearts, which is so intertwined with love, and little fear for their differences based in their respected religions. It was after completion of her engineering, Swati was placed in the company of IFB company in Lucknow. In her training period in Goa, young Swati was extremely busy and faced difficulty in even communicating with her family, and thus it was during these troubled times that Swati met Joseph for the first time – he was the new in-charge and she was his trainee. Her training got over and as destiny would have it, Swati was transferred to Goa within four months. And thus the friendship blossomed to love, from their time spent together during work and post-work dates. This sort of unique bond needs to be shared, and hence kudos to the lovely families, who could see what made their children happy and chose to support and stand proudly besides their kids, which is frankly a challenge in a society where even honour-killing is considered as a privilege.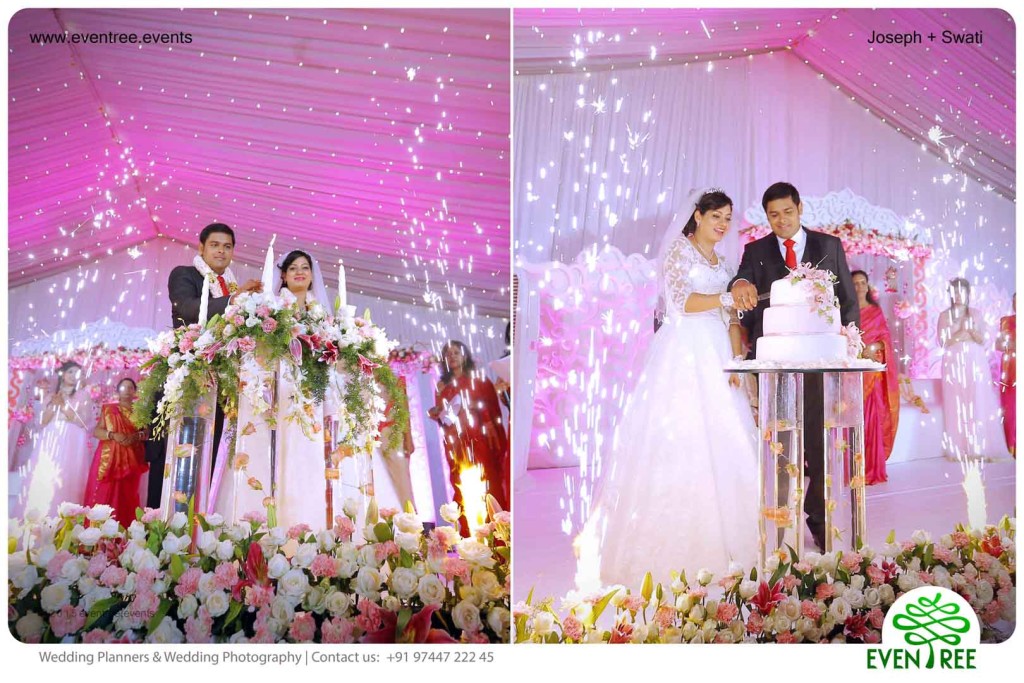 In order to plan the wedding, it was Joseph's parents who reached out to us at Eventree to organise the engagement and wedding functions. "An elegant and graceful affair", they mentioned, "Nothing over the top," with the main venue being in Kochi. Working with our design team, various suggestions were provided in order to fulfil the family's anticipations, eventually coming down to golden hues set for the engagement function, and shades of pink and white for the wedding function, held at Edapally church, with rustic décor as a complementary addition. Finally, the reception, at Ramada church had the same set tones as the wedding function, ending in a sparkling evening for the delighted couple.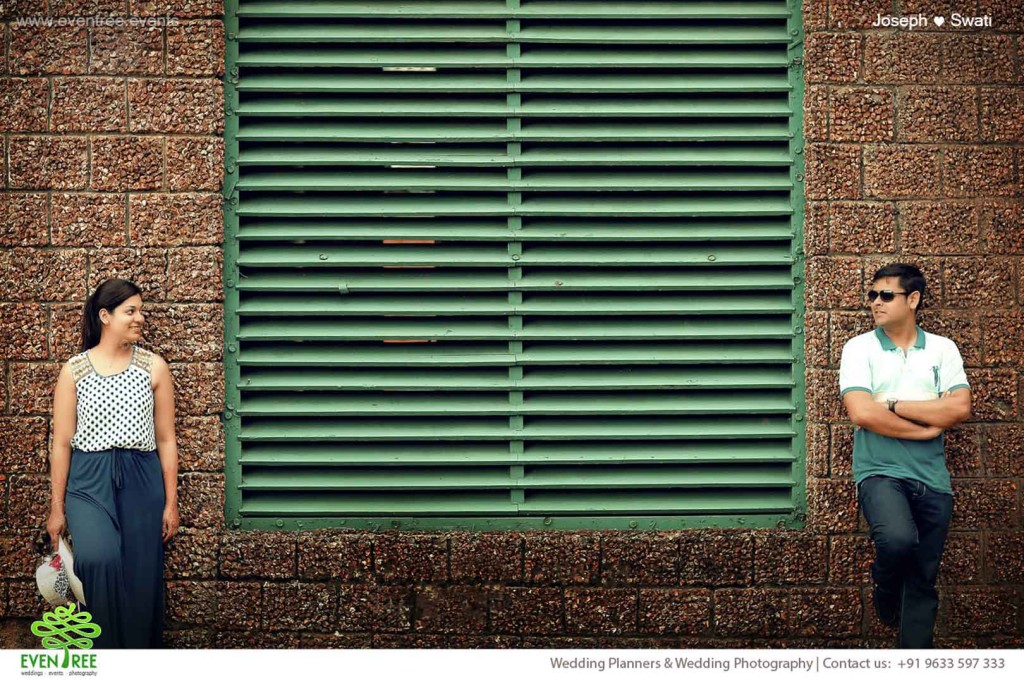 "You don't marry someone you can live with – you marry the person who you cannot live without"–this appears to be the beautiful reality for our joyful couple. It was following on from the hectic schedule of their family events that the post-wedding photo shoot was taken in Goa, where the same dreamy-eyes couple posed blissfully to our photographers. It can really be seen as true that Joseph and Swati are immensely blessed to have family and friends to celebrate the union of their love, despite the different backgrounds and religion.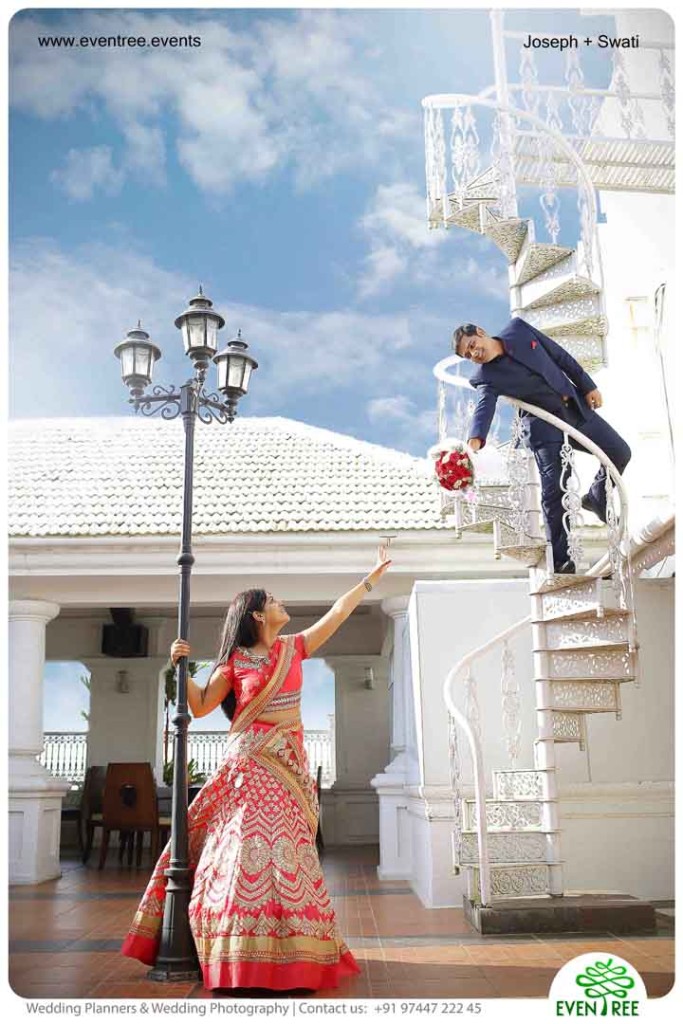 We at Eventree Wedding Planners are based out of Cochin and conduct magical and memorable events across Kerala, specialising in photography and videography, and themed decoration.